If you go to Planet Minecraft or mcschematics and look for schematics of levels of towns, you'll notice something: Just about none of them are. They're villages with walls and maybe a castle. Rarely, there are some that somehow make sense, like Skycrown (Nothing historically correct in this one, but plausible).
There are, however, cities that look like cites. This Imperial City is simply unbelievable.
But I didn't want a city, but simply a fortified town for the NPCs. And I wanted a town which looked like it, and not like a village: Neither totally flat, nor with too straight roads, nor one with dispersed single-story buildings — the latter being the defining characteristic of a village. Towns need to be cramped, buildings built in rows and blocks right next to each other, with a small footprint but multiple stories high to maximize real estate.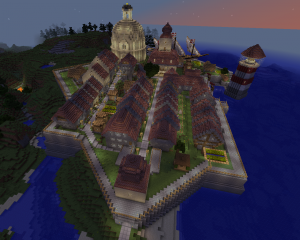 I decided to go for a rather medieval look in general, with upper stories protruding in front of the building, sometimes with arcades in front of the houses. Also, with firewalls between the houses which are slightly higher than the roofs. Most houses feature a stall/shop behind double doors, and another entrance for entering the workshop and the living quarters.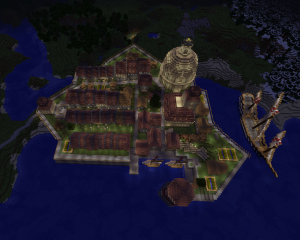 However, the medieval looks is not drawn trough. Think of a medieval town that was modified in the later centuries, and arrived in the 18th century. Most buildings are still of older types, and only the most modern buildings really have a baroque look. In that case, it's the city walls, which are already in the model of a star-shaped fortress of the late 17th century, including the gate-tower, the town hall with it's tower, and the church. The church is actually the uppermost part of a cathedral by someone else, inspired by the Frauenkirche in Dresden. I won't include it in the schematic (so I can put the town under a free license), but you'll notice the big round place at the top of the town — just copy paste in either the cuppola of above cathedral, or something else there. And the lighthouse is actually too modern, these turned up in this form later in the 19th century.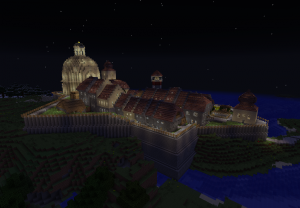 The schematic is a cut-out from my usual map, since the town didn't lend itself nicely to being placed on flat ground. It's supposed to be on a hill towards the sea. If you want to set it into its original setting, the world seed is "3327780" (structures, cheats, no bonus chest, type default). You'll find the place at +850/+600, southeast of the spawn point. There's a village there (which in fact, was the base of my town and supplied its population).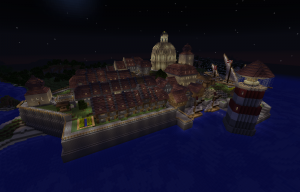 Here's the level and schematic:
The license of these files and my screenshots is the OPL 1.0 (which is about the same as CC-by-sa).