I somehow lost interest in this (more on that later), so it's basically a construction site, but I thought I write up how I constructed it.
I was looking around for some more baroque things I could build, maybe a small fortified city or something like that. Initially I came upon the Peter & Paul Fortress in St. Petersburg, but I could not find any useful plan or schematic.
And then I found this: Castle Of Good Hope, Overview. It has a scale, measures around 240×240 meters, and the layout looks gorgeous. The picture has around 2 pixel per meter, so that can be scaled easily. This star-shaped fortress was built between 1666 and 1682 by the Dutch East India Company (VOC).
I loaded the layout into gimp, fiddled around with the colours so that the black pixels were blacker and thicker, and the colours deeper. Then I made a custom palette with five coulors: black, white, orange, blue, green, and converted the image from RGB to indexed with that palette, replaced white with alpha, and rotated it 60 degrees counterclockwise (because I wanted the walls of the building in the middle to be straight). Finally I scaled it to 50%. Which gave me this: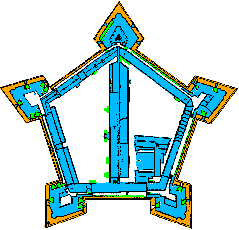 This image I then converted to an mcedit-schematic. There's some free online-tools which can do this, some standalone programs and even some mcedit filters. Which gave me this: Floorplan Schematic which of course is not very precise. This I placed on the ground with mcedit, and then I started building up, while interpolating and correcting.
This is how it looks right now, from a bit up the ground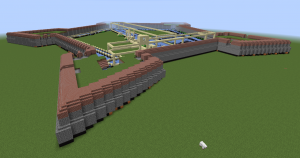 And from above: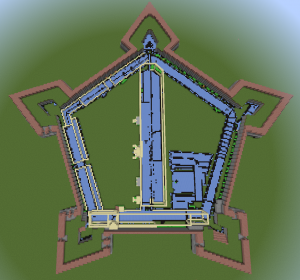 Including the woollen plan beneath it, and with various sandstone blocks to mark where buildings should go.
Now, if you take a close look (or look at a View of Castle Good Hope or a Closeup of the Gate of Castle Good Hope) you realize what this consists of: Basically (granite) cobblestone topped off by red brick! Ugh!. That was the moment I slowly started to decide that I would not finish this.
Add to this that I could not find an elevation-plan of it (only of the earlier square-shaped fortress) and various details remained opaque (although google map view of Castle Good Hope helped a bit; you can see where stairs are), I decided to leave it after I've brought into some kind of shape.
So if anyone wants to continue this (perhaps someone frome cape town?) I publish it here. License is public domain, you can do whatever you wish with it. It's in 1:1 scale, as accurate as possible. The walls are maybe 70% done, although I don't know if I've got the height right, and the topping-off is a bit higher, since I wanted to have half-slabs on top to stop spawning. Also, there's only grass where It didn't interfere with the rest of the walls. The Oranje and Leerdam bastions have their gun emplacements, Buuren only two of the five it should have; the rest none yet. And I'm not quite happy with how they look. The entrance lacks everything. The buildings are somewhat staked out, some with approximate height.
The world save is just what you can see in the pictures, the schematic however is the walls only, so you can put it into your world and fill in the rest with whatever you want.
Here they are